The Lumin8 Healing Oracle starts with SYMBOLOGY
Easily discover how five simple shapes reflect where you've been, where you are now, and where you're going!
Check your email! Your Symbols of Success reading will appear shortly. 
Thank you!
Are you ready for a reset?
If you are a heart centered Soul, who is tired of living inside the lines, and  find yourself  "shutting down" to fit in, read on.
I've worked with thousands of women helping them live more authentic lives, through accessing their natural abilities. I guide and support courageous souls with the alignment of their intuition, power and purpose so that that could live happier and empowered lives while helping others.
I do this through my books (The Intuitive Tarot Workbook and Dirty Laundry (fiction)), tools (like The Lumin8 Healing Oracle – the only oracle that triples as an oracle, intuitive development tool and healing tool), and several guided meditation CD's, that support healing, and intuitive activation.
I also conduct live and online workshops, retreats and intuitive readings – where I teach my clients how to access their personal power and create meaningful and successful businesses using their unique gifts.
Each of my programs are proven and field-tested systems that have changed the lives of thousands of women.
Easily learn your personal style of intuition, how to think differently about your life, how to dream big, and how to make your dreams come true.
Be part of an emerging community who are authentically creating huge shifts on the planet and new outcomes in life.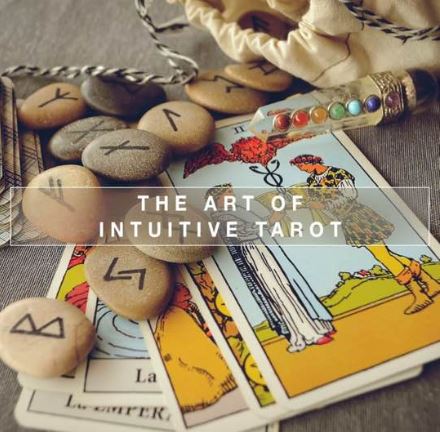 Develop Your Intuition and Build Intuitive Tarot Skills
Our intuition is the whisper we rarely hear due to all the noise around us...like our families, social media, television and cell phones. Tarot is one very powerful way we can tap into our intuition. Whether you are a traditional tarot professional or a novice, you can develop your intuitive gifts by learning the Art of Intuitive Tarot. The intent of this program is to help, support, and empower you to connect with your natural gifts, so that you can read any tarot deck or oracle and provide spot-on insight.
Click here to hear Gina talk more about the course and how it is different from other tarot classes.
Sign up now for the Art of Intuitive Tarot on DailyOM
Gina and her readings are delightful! I found her to be knowledgeable and accurate with a clear understanding of her craft and a very pleasant delivery of the information she is receiving.

Madisyn Taylor, DailyOM